Joe's daughter Danielle meant everything to him; she was his precious little "Boo" and he loved showing her off.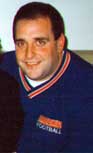 He especially loved taking her to football practice when he was coaching at Stepinac. His Stepinac family was very important to him and he proudly wore the Stepinac name everywhere; he was forever in his coaching gear.




A friend once said that Joe worked really hard so he wouldn't ever have to deny his daughter anything. Between his day job as a bond trader, his night job tending bar at the Sports Page, coaching football and doing the things he loved about being a dad, like helping to coach Danielle's baseball team, he hardly ever slept and would sneak naps where he could!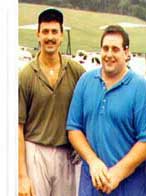 His generous and giving nature made Joe a great friend, and he had amazing friends in return.



He really would give you the shirt off his back (one that had a Stepinac or Sports Page logo no doubt) and do what he could to help you.



From grade school to adulthood, from the Sports Page to the golf course, Joe made friends wherever he went, and we thank you all for helping keep his memory alive by remembering all the good times you shared with him.