Joe was a bright and happy child, so much so that his mom used to say "the sun is shining" when he was in the room. He was far from shy and would talk to everyone. Often he'd sing for you too.



Ever mischievous, Joe loved to see what he could get away with—and with his smile, he got away with a lot. And of course, that didn't change as he grew older!




Joe attended St. Bernards in White Plains and graduated from St. Anthony's school in Silver Lake where he was confirmed. He made many wonderful friends in his early childhood that he kept in touch with as an adult.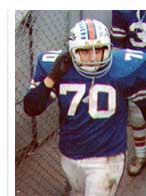 Football was an important part of Joe's life from an early age. He loved everything about the game. He first played for the Bernies in White Plains in grade school.



At Stepinac High School, he was a captain and All League Player. There, he will always be remembered as "No. 70" as this number was retired in his honor.



After he graduated, Joe became as assistant football coach with head coach Mike O'Donnell. Joe truly loved teaching "his boys" not only the finer points of the game but also the important ideals of sportsmanship, discipline, community spirit and respect.